TEACHING AT AUA
Presently, teachers are hired within Thailand after a face-to-face interview, although we welcome inquiries from abroad. Our teachers come from around the globe with varied backgrounds and experience. All teachers must be native English speakers with at least a bachelor's degree. Many have master's degrees in various fields and credentials in teaching English as a foreign language. A TEFL certificate and teaching experience are highly valued. New teachers are expected to make a one-year commitment to working at AUA.
AUA's main campus, located on Ratchadamri Road right in the heart of Bangkok, employs over 80 teachers and currently serves over 8,000 students. Bangkok's new skytrain system runs past AUA, making this an extremely convenient location for both teachers and students, with the Ratchadamri Station just a block away. Campus facilities include a spacious library, a 700-seat auditorium, rechargeable flashlight center, a self-access center, 2 cafeterias, over 40 classrooms, as well as a teachers' lounge and resource center. The main campus is also the home of AUA's popular Thai language program.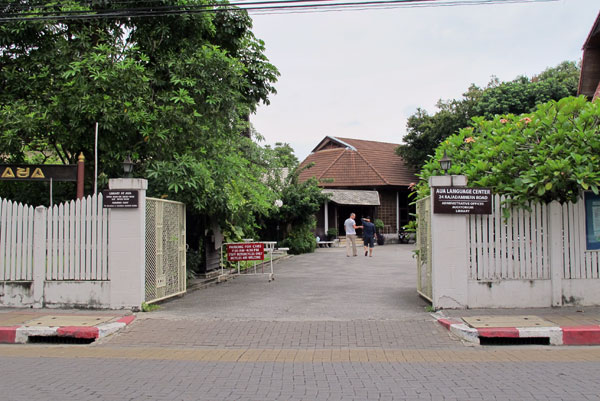 AUA also has three branch schools in Bangkok and eleven in the provinces, affording teachers the opportunity to work almost anywhere in Thailand. After a few terms teaching and training at the Ratchadamri campus, teachers hoping to live closer to Thailand's beaches and mountains can transfer to a branch in another part of the country.
Weekday Schedule
Teachers at AUA can expect to teach between four and six hours per day or 20-30 hours per week. Terms are six weeks in length. Teaching hours will usually fall between 7am to 2pm or 2pm to 9pm.
Weekend Schedule
Teachers must work at least two Saturday terms out of a total of four during the year. Saturday terms offer three-hour classes over a 10 week period.
Interim Breaks
There is normally a one-week break between terms with a two-week break in April and a three-week break in December. These periods are used for placement testing and registration of new students. Teachers are not paid during this period and often use this time to travel.
Advantages of working at AUA
Excellent reputation among Thais
Teacher support: training/mentoring
Flexible work schedule
Regular pay step increases
One week off after each 6-week term
One year visa/work permit
Mobility within country-wide branches
Free health insurance
50% discount on AUA Thai classes
Gift: a rechargeable torch